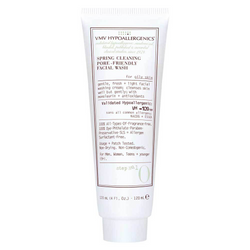 VMV Hypoallergenics Spring Cleaning Purifying Facial Wash for Oily Skin
A gentle, oil-controlling, fresh and light facial washing cream.

While sensitivities and irritation tend to be associated more with dry skin types, oily skin can become sensitive and irritated due to incorrect or over-treatment, or repetitive exposure to irritants and allergens.
Gently washes away grease, excess oil, dirt, and other pore-cloggers. Leaves skin fresh and matte, yet healthily and refreshingly hydrated.
Contains monolaurin, a gentle-yet-powerful coconut-derived anti-acne antibacterial and antifungal.
Anti-inflammatory; with soothing antioxidants.
This mild, purifying cleansing wash is ideal for irritated or over-medicated oily skin.
Skin care only goes so far. Come in for a free consultation at Elias Dermatology!