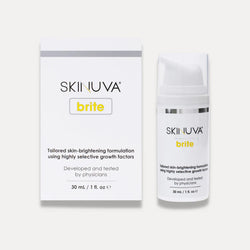 Skinuva® Brite is a physician-designed and clinically tested skin brightening product that has been shown to reduce the appearance of hyperpigmentation such as dark spots and discoloration on the face and body. Types of hyperpigmentation include melasma, post-inflammatory hyperpigmentation, under eye hyperpigmentation and sun spots (solar lentigines). Skinuva® Brite does not contain hydroquinone, retinol, nor any silicone.
Usage: It is recommended to apply Skinuva® Brite twice a day. Results may be seen as early as 30 days, but best results are seen with long term use. Results may vary depending on the severity of the hyperpigmentation.
Skin care only goes so far. Come in for a free consultation at Elias Dermatology!