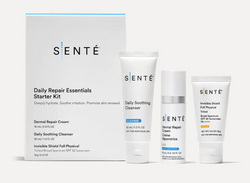 SENTÉ® Daily Repair Essentials Kit
A 3-step daily starter regimen specifically designed to promote skin renewal and help soothe irritation for visibly healthier, more even-looking skin.
Benefits
Helps reduce visible redness 
Promotes renewal by deeply hydrating 
Ideal for Sensitive skin
How to Use:
Step 1
Apply Daily Soothing Cleanser onto the fingertips, add water and gently cleanse the face using circular motion. Rinse thoroughly with water (am/pm).
Step 2
Apply 1 pump of Dermal Repair Cream onto fingertips and gently rub into the skin (am/pm).
Step 3
Apply sunscreen onto the skin and gently rub in. Reapply every 2 hours when exposed to the sun (am).
Key Ingredients
Heparan Sulfate Analog is a revolutionary repairing molecule that helps reduce visible redness, delivers deep hydration, and support the skin's natural ability to repair itself.
*Doesn't clog pores
Skin care only goes so far. Come in for a free consultation at Elias Dermatology!