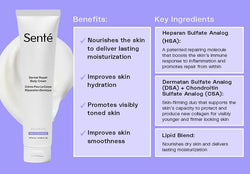 SENTÉ® Dermal Repair Body Cream
Rich Body Cream Containing Patented Heparan Sulfate Analog (HSA) Technology + Skin-Firming Duo Dermatan Sulfate Analog (DSA) & Chondroitin Sulfate Analog (CSA) With Nourishing Lipid Blend.
More than a moisturizer, this nourishing body cream visibly tones and brightens skin, delivering instant and long-lasting hydration. Dermal Repair Body Cream is formulated with our patented skincare technologies to protect and produce new collagen for visibly younger and firmer-looking skin. A nourishing blend of lipids + ceramides provide moisture to the skin for soft and smooth results. Achieve visibly firmer-looking skin within eight weeks.
Benefits
Nourishes skin to deliver lasting moisture
Improves skin hydration
Promotes visibly toned skin
Improves skin smoothness
How to Use
Step 1
Apply once or twice daily to desired areas
Key Ingredients
Heparan Sulfate Analog: A patented repairing molecule that boosts the skin's immune response to inflammation and promotes repair from within
Dermatan Sulfate Analog & Chrondroitin Sulfate Analog: proprietary skin firming molecules
Ceramides: Support healthy skin barrier function and improve skin's moisture level
Niacinamide: An antioxidant that promotes healthy skin barrier and helps visibly brighten skin
Arnica: reduces the appearance of bruised areas and soothes sensitive skin
Skin care only goes so far. Come in for a free consultation at Elias Dermatology!