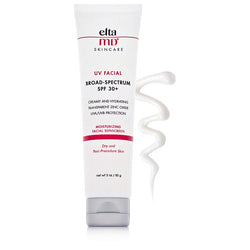 EltaMD UV Facial Broad-Spectrum SPF 30+
Elegant and silky on your skin, this fluffy moisturizing sunscreen may be used every day or after facial treatments. Developed specifically for moderate to dry skin, it is beneficial for all skin types needing a moisture boost and UV protection. EltaMD UV Facial can be worn alone or under makeup.
7.0% transparent zinc oxide
Antioxidant protection combats skin-aging free radicals associated with ultraviolet (UV) and infrared radiation (IR).
Moisturizing UV protection for the face
Ideal for use after aesthetic procedure
UVA/UVB sun protection
Fragrance-free, paraben-free, sensitivity-free and noncomedogenic
The Skin Cancer Foundation recommends this product
as an effective broad spectrum sunscreen.
Skin care only goes so far. Come in for a free consultation at Elias Dermatology!