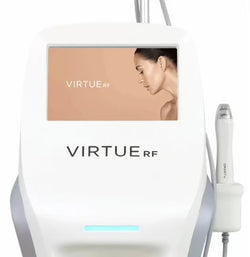 RF microneedling is one of the most in-demand aesthetic treatments, as patients today expect results with limited to no downtime. 
VirtueRF offers the utmost precision and sophistication for both provider and patient, tackling a wide range of patient concerns including fine lines and wrinkles; scarring; body treatments; and precise applications for eyebags, festoons and buccal, jawline, and periorbital and submental areas.
With more power, pulse duration, and setting options than any other RF microneedling device, VirtueRF's exclusive RF sub-pulse technology delivers high-energy treatments without sacrificing patient experience. 
Skin care only goes so far. Come in for a free consultation at Elias Dermatology!