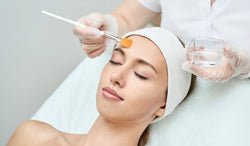 VI Peel or Derma Peel (Black Friday Sale)
VI Peel: 
The VI Peel (Vitality Institute) Peel® is a medical-grade chemical face peel designed to

 

youthen the appearance of the skin by removing the top layers of skin to reveal the newer, clearer skin.
The Perfect Derma™ Peel is safe, effective medium depth peel for All Skin Types & Ethnicities.  This product is virtually painless, with no pre-peel skin preparation and little downtime.  The Perfect Derma™ Peel is the only peel that includes the powerful anti-oxidant Glutathione, which lightens and brightens the skin, slows down the aging process and helps prevent wrinkles.
Skin care only goes so far. Come in for a free consultation at Elias Dermatology!